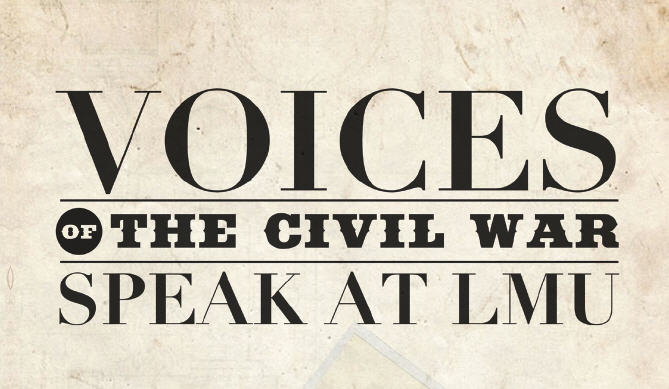 January - May 2015
---
Initiated by a 2014 Fall semester undergraduate course, History 550 - The Civil War, taught by Dr. Carla Bittel, the Voices series was a campus-wide collaborative program that commemorated the sesquicentennial of the ending of the American Civil War. The series was designed to highlight two major collections of Civil War artifacts on campus: one housed within the department of Archives and Special Collections in the William H. Hannon Library and the other housed within the Classics Department's Archaeology Center. The program featured the following events:
Not Silent: Finding Voices in Civil War Artifacts: An exhibition of Civil War artifacts from the library's collections, curated by the students of History 550, based on the research they had conducted during their Fall 2014 course. On display January-May 2015.
The Voice of Abraham Lincoln: the Second Inaugural Address: Series keynote address by Dr. Ronald C. White, Jr., accompanying the opening reception for the Not Silent exhibition. February 2015.

12 Years a Slave: On February 23-25, 2015, we hosted a film screening and panel discussion. Student, faculty and staff were invited to participate in a broader discussion about the film's themes of physical and psychological violence, labor exploitation, and family desecration and their contemporary relevance in society. February 2015.
Women's Voices of the Civil War: Dramatic readings by LMU Theatre Arts students from the writings of three Civil War era women, with historical commentary by Dr. Carla Bittel. Voices included a Union nurse, a former slave, and a Southern woman. March 2015.

Undergraduate Research Symposium - Civil War panel: A group of History 550 students presented on their experience researching and curating the Not Silent exhibition. They were joined by graphic design students who created the design treatment for both the Voices of the Civil War Speak at LMU series and specifically the Not Silent exhibition. March 2015.
Event Recordings:
Program Sponsors:
LMU Office of the President, Department of Classics, Department of History, Office of Black Student Services, William H. Hannon Library
Voices Steering Committee:
Cynthia Becht William H. Hannon Library; Carla Bittel, History; Fr. William Fulco, Classics; Jamie Hazlitt, William H. Hannon Library; Joan Pohas, University Relations
Additional Thanks:
Michelle Bernardin, University Relations; Dexter Blackman, History; Dean Kristine Brancolini, William H. Hannon Library; Jill Cornelio, William H. Hannon Library; Alberto Franco, Digital Life Graphics; Jessica Guardado, William H. Hannon Library; Garland Kirkpatrick, Art & Art History; Nicole Murph, Art & Art History; Carol Raby, William H. Hannon Library; Nathan Sessoms, Office of Black Student Services; Kevin Wetmore, Theatre Arts
Student Curators from Professor Carla Bittel's HIST 550 Seminar:
Joseph Berg, Kyle Cotchett, Alex Gordon, Jennifer Krol, Tabatha Laanui, Mary Ludwig, Guadalupe Mejia, Esteban Navarrete, Sean Nazemi, Eric Pittaluga, Christian Rodriguez, Joe Schacter, Hugo Seisdedos, Kassandra Velasquez, Haley Yochum
Student Designers:
Tyler Barnett, Jacob Hassett, Gilles Meunier
Browse the Voices of the Civil War Speak at LMU Collections:
Archives & Special Collections Gallery Exhibit