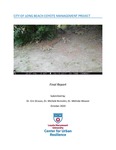 Description
EXECUTIVE SUMMARY
Staff from the Loyola Marymount University Center for Resilience, in collaboration with officials from the City of Long Beach conducted a multiyear analysis of coyote ecology, risk, and management options to be implemented. The project was designed to incorporate local data, regional information and national examples to be applied to the challenges of coyote management in Long Beach. The project was initiated in response to increase concern about the safety of coyotes living within the city and their impact on domestic animals, especially cats. The project occurred at a prescient period in urban coyote research as many parallel projects were taking place across the country, with a few focused in Southern California. As such, the project activities morphed during the period of three years to better capture the new information that was being made available by collaborating scientists in the area and by research teams across the country.
The data from Long Beach and other studies indicate that coyotes in Southern California present an increasing risk to domestic animals, especially cats, when compared to both historical studies and other locations across the country. These findings have been supported by multiple research efforts by other scientific teams and by our additional work that is currently underway in Culver City. As a result of these findings, the management challenges for coyotes in Southern California have increased in scope and complexity. Cities across the region are struggling to find effective and humane interventions that can ameliorate the threats presented by coyotes, especially those directed towards domestic animals and people.
Our recommendations include: 1) increasing specialized education for stakeholders with regard to reducing coyote risk, 2) implementing a suite of interventions at the individual parcel level that can decrease the potential threat from coyotes, 3) following a tiered response to coyote management with respect to documented incidences, and 4) introducing a palette of strategies that can be applied to residential pet owners as they try to find a balance between pet safety and outdoor activities.
This report and its appendices contain detailed information and resources that can be used to address these recommendations. As part of this project, we developed a localized formal in-school curriculum that is available online to the Long Beach Unified School District and other schools in the area. We have also developed a backyard safety survey that can be implemented with relative ease. Finally, the report itself provides a wealth of information pulled together from our data collection in Long Beach as well as other cities throughout the US. These resources can be used by themselves or be incorporated into the development of additional outreach materials. While the Covid-19 pandemic has impacted the feasibility of certain in person community engagement and outreach interventions, these materials can still be utilized immediately. The CURes team stands ready to provide virtual workshops, presentations, and professional advice on individual coyote incidents and the options the city might use to reduce risk.
Recommended Citation
Strauss, Eric G.; Romolini, Michele; and Weaver, Melinda, "City of Long Beach Coyote Management Project" (2020). Center for Urban Resilience Reports. 4.
https://digitalcommons.lmu.edu/cures_reports/4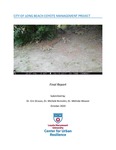 COinS