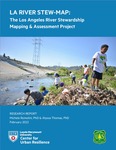 Description
EXECUTIVE SUMMARY
The Stewardship Mapping and Assessment Project (STEW-MAP) was applied in the Los Angeles River Watershed to answer the questions: Who are the active environmental stewardship groups in my area and where, why, and how are they caring for the land? STEW-MAP defines a "stewardship group" as a civic organization or group that works to conserve, manage, monitor, transform, educate on and/or advocate for the environment.
Leveraging national expertise and previous regional investment in Los Angeles County STEW-MAP, the Los Angeles (LA) River STEW-MAP provides detailed information on the geographical footprint and collaborative relationships of organizations working in the Los Angeles River watershed. LA River STEW-MAP researchers developed an inventory of 535 environmental stewardship organizations working in the LA River Watershed; and collected survey data from 107 of those organizations. Some highlights of the resulting data analysis included:
The majority of groups (57%) were 501(c)3 nonprofits, with less than ten percent representing other legal designations. The next largest group was city/local government, chosen by just nine percent of respondents.
The government was identified as providing funding to over two-thirds of responding stewardship organizations; and the network results showed that government agencies were often identified by respondents as groups that they go to for collaboration, knowledge, and funding related to environmental projects. This may reflect the historical development, land ownership, and current political climate of the LA River—all of which are largely led by agencies at all levels of government.
Responding groups tended to be younger and smaller, and heavily reliant on volunteer labor. Most groups had been founded since the 1990s, with nearly a quarter of groups founded in just the past ten years. The median number of staff reported by the responding organizations was 9 full-time and 3 part-time. Notably, the average hours respondents reported from occasional volunteers was 152 hours/month, the equivalent of almost a month of full-time work.
Education is a focus of stewardship organizations. Education-related responses were prominent throughout the results. LA River stewardship groups are playing a key role in educating their communities about the watershed and broader environmental issues.
Stewardship groups support local environments AND communities. "Community" was prevalent in mission statement analysis, "community improvement and capacity building" was among the most chosen focus areas, and "community organizing" was identified by nearly half of respondents as a service they provide.
LA River STEW-MAP results reflected the watershed approach of the study, with "stream/river/canal," "stormwater management," and "watershed/sewershed" representing three of the top five most chosen stewardship site types, and water quality/water conservation among the top three most chosen focus areas. However, when asked to consider the influence of eight water-related plans and programs on their work, LA River Watershed plans were not influential to the average responding organization. This dilution of influence of any one plan or program may be attributed to the large number of ongoing planning efforts within the watershed. It also may highlight a need for even greater engagement with stewardship groups in watershed plan implementation.
The highest geographic concentration of stewardship was found in downtown Los Angeles around the LA River. Other areas of high stewardship concentration were the northeastern area of the watershed, within the Angeles National Forest.
Groups identified over 1200 collaborative, knowledge, or funding relationships related to environmental stewardship. Since respondents were able to write in their responses, this provided the opportunity to add new groups not included in the initial inventory of stewardship organizations.
The "hubs" of activity in the stewardship network were mostly 501(c)3 nonprofit groups, and government agencies from the local to the federal level.
These results are reported in detail in this report. The project also produced two publicly available online mapping tools where users can further explore the geographic and social network data.
The summary statistics, initial maps and network analyses provided here offer an extensive look at stewardship across the LA River Watershed. There is great potential across the data types for more intensive examination. Future analyses may include spatial, social network, or other explorations of this rich dataset to better understand environmental stewardship in the Watershed. The results and mapping tools have numerous possibilities for application in practice. Examples from previous STEW-MAPs include using the spatial data to help guide prioritization of urban forestry efforts to meet sustainability goals; and searching the STEW-MAP database in a particular area to help mobilize a community network in response to a specific issue. These are two of many examples compiled by the national STEW-MAP Community of Practice, which the LA River Watershed organizations may participate in and use as a resource.
It is important to note that the LA River STEW-MAP survey only reached about 20% of the initial list of organizations. Thus, follow-up work could include on the ground outreach to increase the response rate. LA River STEW-MAP has the potential to be a dynamic, regularly updated database and map that provides a current view of stewardship across the watershed rather than a snapshot in time. The LA River Urban Waters Federal Partnership may be a good place to discuss possibilities for further development and ongoing maintenance of the database and mapping tool.
Recommended Citation
Romolini, Michele and Thomas, Alyssa, "LA RIVER STEW-MAP: The Los Angeles River Stewardship Mapping & Assessment Project" (2022). Center for Urban Resilience Reports. 8.
https://digitalcommons.lmu.edu/cures_reports/8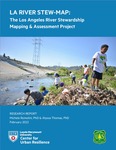 COinS