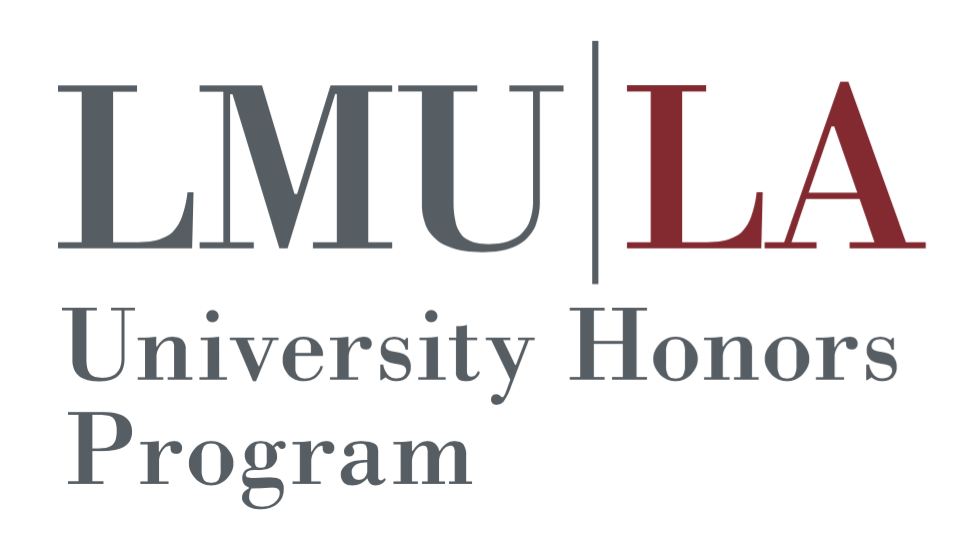 Welcome to the University Honors Program Grants & Fellowships collection. This collection serves as both the destination for Honors grant proposal submissions and the public repository for grants that are funded. Where available, published work that results from grant awards can be reached by viewing the Digital Commons profile of the student awardee.
Proposal Submission Instructions
Take note of the type of grant that you are requesting. You will need to state this selection as part of the submission form. Descriptions of the available grants can be found at https://academics.lmu.edu/honors/academics/research/.
If you have not already done so, you will need to create a profile under the LMU Digital Commons system (it will ask you to do this the moment you click on the Submit button below).
Some fields are applicable only to certain types of grants; read their prompts carefully so that you do not miss items that are needed for your grant.
If your proposal is awarded, it will appear as a public part of this collection.
Letter of Recommendation/Endorsement from Faculty Mentor
Aside from the application and required student documents, you will also need a letter of recommendation from your Faculty Mentor. Your submission will not be considered complete until the letter is sent to the Honors office. Your mentor should send their letter to honors@lmu.edu. Include the student's name and grant type in the subject line for ease of identification.
To apply for a University Honors Program grant, click on the button at the bottom of this page.
Submit a Proposal
Submissions from 2021
Carbon Sequestration of Zostera marina Seagrass, Joseph Correy
The Queer Classroom: Rethinking Power in Pedagogy, Harrison Hamm
Intimate Partner Violence During the Troubles: Investigation of the correlation between the rates of IPV in Northern Ireland and the period of conflict of The Troubles, Lydia J. Lamm
Investigating the Role of Base-Triples in the HTLV-1 Pseudoknot, Madison M. Maille
Portrayals of Stress in Video Games, Grayson McKim, Nathan Wang, Harrison Espino, and Aiden Meyer
Determining if a cellular molecule regulates HTLV-1 pro-pol programmed -1 ribosomal frameshifting, Cole Melton
Predictive Coding and Internal Error Correction in Speech Production, Emma Murphy
Internal Chaos: How Misrepresentation in the Media Leads to Confusion with Latinx Identity, Camila Robles Ruiz
Submissions from 2020
"A Long Way from the Acropolis", Liam Mitchell Smith Chamberlin
Distance Learning and the Impact of COVID-19 Across Disciplines, Halley Jeanne Dante
Examination of the Mesopredator Release Hypothesis between Coyotes and Mesopredators in Culver City, California, Rebecca Davenport
We Need You to Come In, Kyle Friedler
Illustrating Spain: Gaudi's Modernism vs Moorish Architecture, Lily Kerns and Calvin Foss
Honors Summer Research Fellowship, Jeremy Lee
Creating Artistic Visual Representations of a Circus Performer's Acrobatic Movement, Fosse Lin-Bianco
Documenting the Human Ability to Correctly Identify Fake Images Produced by Generative Adversarial Networks, Booker Martin
History in Crisis: Museum Programming during the COVID-19 Outbreak, Lindsay McConnell
Individual Political Beliefs During the COVID-19 Global Pandemic: An Examination of How Voter Attitudes Respond to a Global Health and Economic Crisis, Riley McCoy and Logan J. Seat
Establishing Morality through Video Games, Grayson McKim and Booker Martin
Russia Abroad, Russia At Home: Explaining Russia's Support for the Far Right, Emma Rose Murphy and Sophia Notter
"Briefcase": Intelligent Court Transcript Management, Lucille Njoo
Submissions from 2019
Increasing LGBTQ+ Visibility in Children's Television, Haley Bulen
Exploring the Effect of Human Genetic Variation on Gene Regulatory Networks: the Case of Lactase Persistence, Susanne Carpenter
Sentiment analysis of newspaper headlines that relate to health care policy, Charlotte Cheng
Predatory Institutions: Metal Detectors in Chicago Public Schools, Siobhan Collins
Why Walk?: The Pilgrimage Revival, John Louis Darrouzet IV
Gender Effects on Group Hiring Dynamics, Margaret Gallagher
Southern Gothic: Origins and Omens from Literature to Cinema, Harrison Hamm
Maori Cultural Tourism, Kaitlyn Kessler and Jessie Anne Brown
$UCCE$$: A Social Media Analysis of Australian and American Celebrations of Success, Amanda Meegan
The Impact of Familiarity and Diet on Death and Differential Diagnosis of European Hemochromatosis, Ellie Pitcher
THE RETURN OF LOTTE REINIGER: A CONVERSATION OF PAST AND PRESENT, Emily Rawson
Determination of the Relationship Between Thermodynamic RNA Stem-Loop Stability and Frameshift Efficiency, Leila Robinson
Submissions from 2018
Immortality Calls for Wine: Dionysian Iconography on Late Imperial Roman Sarcophagi, Samantha Burton
Laban Movement Analysis and Dance Inequality, Gillian T. Ebersole
Educational Value of Technology in Museum Exhibits in Central Europe, Haley L. Fletcher
Desperado: Hyperlink Cinema as a Springboard for Societal Critique, Arun Gulati 5053590
Antiquity After Repatriation: New Perspectives on the Ownership of Cultural Property, Erin Hood
Women in Mountain Biking, Quinn M. Lanners
Tall Poppy Syndrome: Opiate of the Masses, Amanda Meegan and Haley A. Bulen
Happiness Index in Belfast, Ireland, Lucille Njoo
Resurrecting the Study of a Forgotten Animator: The Case for Lotte Reiniger, Emily Rawson
Brushless DC and Squirrel Cage Induction Electric Motors: Increasing the Relative Torque and Energy Efficiency through Variable Magnetic Fields and Dynamic Squirrel Cages, Patrick Utz and Conor James Green
Captain America and The Winter Soldier: A Template for Gay Superheroes?, Matthew Williams
Submissions from 2017
Tourism in Sandy Row, Belfast, Kelsey Marie Ang
Back to the Basics: How Virtual Reality Films Harken Back to the Invention of Cinema, Chukwuemeka E. Azinge and Andrew York
Tourism in Sandy Row, Bridger P. Caicedo
Investigating the Relationship between Algae-Feeding Fish Populations and Coral Cover and Diversity in Roatan, Honduras, Mia R. Calhoun Mummert
A Promotional Video for Women in Sandy Row, Emily Canas
The Voices of Refugee Integration: a multi-pronged exploration of refugee integration in Greek NGOs, Kenneth J. Cavanaugh
Living Queer: The Experience of Embodied Resistance in the University (A Literature Review), Richard C. Cavanaugh
Food Culture and Social Integration in Paris, France, Brooke Duplantier
Land as Sacred Space: A Creative Synthesis of Environmental Hermeneutics and Painting, Joyce Fehlau
Assessing competition between invasive and native plant species and investigating life history of Jugulans californica at Ascot Hills Park, Jacquelyn Galvez
The Evolving Nature of UK Museums in the Era of Brexit, Erin Hood
South African identity, as exhibited through domestic animation, Steven J. Johnson
Dancing at my Desk: Examining the Foundations of a Non-Profit Dance Education Organization, Caeli Koizumi
Creating an 'Alternative Ulster': Escapism and Utopia in Northern Ireland Punk Rock, Brian D. Kosewic
Foundation for International Education Global Leadership Conference, Emma C. Lane
Northern Ireland Beyond Good and Evil Leadership Grant, Alexandra S. Meek
PAGES: A Tactile Art Installation, Khanh-Van Isabel Ngo
Determining Amyloidogenicity of Islet Amyloid Polypeptide (IAPP) in Animal Species, Shannon M. Pilcher
Approaches to the Education of Syrian Refugee Children in Greece, Hallie G. Ryan
Political and Social Complexity of the Irish Border: The Impact of a Post-Brexit Border upon the Lives of Irish and Northern Irish Citizens, Haley M. Schlicht and Nolan Jacobs Walker
Honors Northern Ireland Leadership Coordinator Internship, Emily Rose Sinsky
Finding the Optimum Point of Leverage in Real Estate Investment Trusts, Alex B. Stamas
Piano, Performance, Politics: The World of Classical Piano Competitions in an Increasingly Globalized World, Anna Thompson
Submissions from 2016
LGBT Art in Context: Characterizing Homophobia in Art and Examining the Effects of Rauschenberg and Twombly's Romantic Involvement in Art Production, Mitchell Braun
Greek Performance of Identity in Museums and Monuments, Samantha Burton
Distant Worlds, Together: Modernization and the Traditions and Cultural Practices of the Shinto Religion and its Relation to Contemporary Japanese Lifestyle and Popular Culture, Ian J. Dizon
Greek Tourism Efforts and the Resultant Revenue, Alfredo Y. Hernandez
The Principality of Sealand: Citizens Around the World, Laura Kulik, Elizabeth Holland, and Dawson Taylor
Cultural Awareness in EMS Training and Practice, Quinn M. Lanners
Disney Takes On Mainland China, Megan E. Pepi and Wesley Kading
The Effects of Cation Compounds on Amyloid Proteins in Type-II Diabetes, Shannon M. Pilcher and David Moffet
The Reel Problem with Digital: The Pixar Process of Preserving their Films from Today to Infinity and Beyond, Nicholas T. Sy