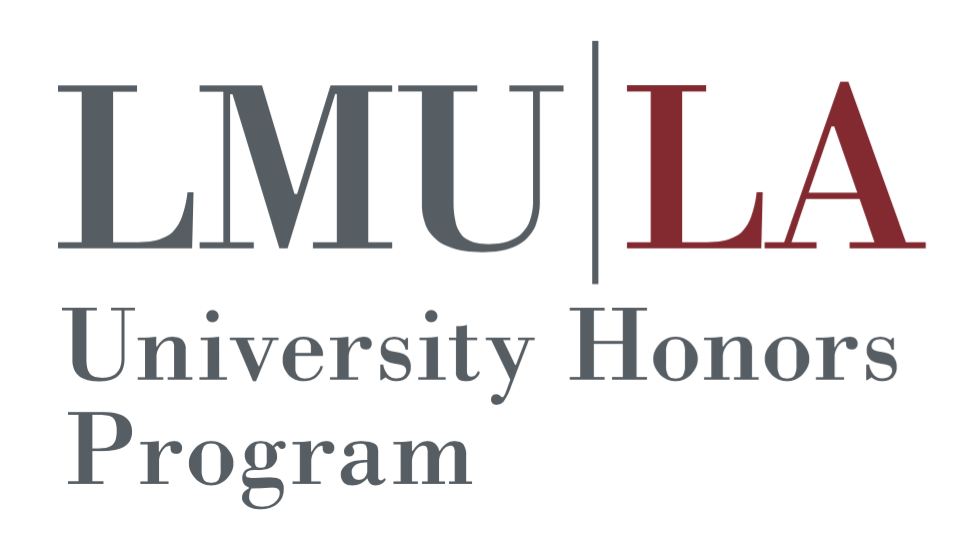 The Honors Thesis is the culmination of a University Honors Program student's time at LMU and the Honors Program. This collection gathers these works for posterity.
Guidelines for Honors Seniors
For uniformity of presentation, your thesis submission should include a thesis cover sheet. A template for this sheet is available as a public Google Doc:
Access the template with a web browser, choose File > Make a Copy… to create your own editable copy of the file, then enter the information that is specific to your thesis. Append this to your uploaded submission.
When submitting your Honors thesis information:
Submission will require that you have an LMU Digital Commons account (which is distinct from your overall LMU credentials)—you will see an option to sign up when you click on the button. Treat your profile seriously and professionally: it is your permanent presence in the LMU Digital Commons.
Include your thesis advisor as a co-author on the work. You may include additional co-authors if you have more than one mentor.
The "Date of Completion" field is, in general, the end of the semester in which you finish your work and get it graded.
The "Degree Type" field is where you can specify whether your work must be accessed from within campus. "Honors Thesis" makes your work part of the library's public collection; "Honors Thesis—Campus Access" will only allow your thesis to be downloaded from a computer within the LMU network.
When your thesis work is complete, please click on the submission button below to begin the process of adding your work to this collection. Your Honors Thesis requirement is not considered fulfilled until the final version of your thesis has been uploaded to this site.
If your final thesis work is not in a form that can be uploaded to this site, please contact Dr. John David N. Dionisio, Associate Director of the University Honors Program, to determine an alternative mechanism for accessing your work.
The information you enter can be revised after submission. Please contact Dr. Dionisio as well to request changes.
Signed Permission Letter
The only submittable item that is not electronic is a signed permission letter allowing the Hannon Library to distribute your work to the web at large, as opposed to just making it available within the campus network. This permission letter is required to be physically on-file in order to permit Internet-wide distribution.
The permission form is available as this PDF download. Download, print, fill out, and sign the form, then drop it off at the Honors office. The library needs this form in order to have the work be available on the Digital Commons platform.
Submit Your Honors Thesis Information
Submissions from 2020
ADAPTIVE UTILITY: OBSERVING THE RATE OF ADAPTATION IN HAPPINESS AS SHORT RUN SHIFTS REVERT TO LONG RUN AVERAGES, Cameron Bellamoroso
White Environmentalism, Neoliberalism, and Mainstream Fossil Fuel Divestment: Critical Reflections for Campus-Based Divestment and Reinvestment Campaigns, Kenneth J. Cavanaugh and Sina Kramer
Representing Misrepresentation: Harm, Offense, and Diversity in Fiction, Richard C. Cavanaugh and Sina Kramer
Climate Migration: Evaluating the Conditions that Breed Conflict, Avery Dillon
En Croix: A Choreographic Study of Translation, Gillian T. Ebersole and Kristin Smiarowski
Linguistic Self-Esteem in Bilingual Adults, Eunice Gonzalez and Dr. Nora Murphy
Finn and Beau: A CG Exploration of Animal Physiology, Aison King
Biofilm Formation and Plant Growth Promotion in Bacillus simplex 237 Are Induced by Nutrient-Deficiency, Yeabsira Mesfin and Nancy Aya Fujishige Dr.
The Impact of Concealed Carry Weapon Laws on Homicide Rates in the United States, Hayden Regalado, Dorothea K. Herreiner, and Michelle Miller
The Influence of Anti-Inflammatory Diets on the Reduction of Symptoms of Inflammatory Bowel Disease, Kelly Stanton
Submissions from 2019
SHIFT Dance Intensive: Developing Dance, Arts and Culture in Hong Kong, Kelsey Marie Ang
Evaluating Morningstar Wide Moat Stocks through the Business Cycle, Zachary Bishkin
Orpheus and Women on 5th Century BCE Vases, Samantha Burton
Analyzing Chaotic Motion in a Computational Double Pendulum, Mia R. Calhoun Mummert
face me., Audrey M. Colanero
Brand Expansion vs. Strong Consumer Relationships, Julia da Motta and Mitchell Hamilton
Repurposing Plastic Waste in El Cercado, Joseph Dooling, Kirby Townsend, and Brendan Smith
Hatch-A-Match, Haley L. Fletcher
Shaming Citizens: An Ethical Framework for Correcting Citizen Vices, Alfredo Y. Hernandez
Slotus, Alison F. Huntley and Michael F.X. Daley
Every Data Point Counts: Political Elections in the Age of Digital Analytics, Julian Kehle and Samir Naimi
Subscale Mars Colonization Mission, Cameron J. LaMack, James Lumsden, Sean Nevin, Donner Schoeffler, Riley Evers, Alexandra Poulakos, Skyler Tan, Anthony Keba, Siraj Zaman, Ali AlTamimi, and anthony Modica
Neural Machine Translation, Quinn M. Lanners and Thomas Laurent
The Internal and External Factors Contributing to the Underrepresentation of Women and Ethnic Minorities in the Workplace: Intersections, Interventions, and Implications, Dylan Loo and Angélica Gutiérrez
Une Promenade Pluvieuse à Paris, Patricia R. Lynch, Sarah Maclay, and Juan Mah y Busch
Gender Norms and Underground Hip Hop: Female Artists and How They Challenge the Industry, Alexandra S. Meek
Symbiosis between Chamaecrista fasciculata and nitrogen-fixing bacteria: a review, Victoria Q. Nguyen
A Comparison of Quadriceps -to-Hamstrings Ratios During Isokinetic Testing, Cutting, and Drop Landings in Male Soccer Players, Shane R. O'Donnell and Jenevieve L. Roper
Are we there yet? Racial Diversity in Digital Retail Advertising, Riley O'Keefe and Julian Saint Clair
Daniel Ostrander in a Senior Recital, Daniel A. Ostrander and Dr. Barbara Dyer
An Investigation of Personal Financial Literacy Education, James R. Penner and Joshua D. Spizman
Ensuring Indigenous Rights: New Zealand and UNDRIP, Olivia Round and Jodi Finkel
Production Design in the Film and Television Space: An Analysis, Kaitlyn N. Ryan and Charles Howard
Finding the Optimal Degree of Leverage in Real Estate Investment Trusts (REITs), Alex Stamas and Trevor Zink Ph.D.
Anna Thompson in a Senior Piano Recital, Anna Thompson and Wojciech Kocyam
Submissions from 2018
Extending the Visualization Capabilities of GRNsight: a web application for visualizing models of gene regulatory networks, Eileen Choe
Heartwired, Alexandra K. Dmitrieva, Gregory Richardson, Fiona Ho, Ethan Arns, Maria Li, Ryan Taus, Kevin Metelus, Zachary Fitzpatrick, and Amanda Niles
Strangers, Alexander Dulak
Genetic Variation and Biogeography of the Silver Garden Spider Argiope argentata (Araneae: Araneidae), Caroline E. Fukawa
In what Ways Do Volatile Political Leaders' International Trade Policies Affect their Citizens?, Dalton Green
Desperado​: Hyperlink Cinema as a Springboard for Societal Critique, Arun Gulati and Joseph Todd Walker
Achieving a Stable Magneto-Optical Trap, Chasen S. Himeda
Demographic Analysis of Respondents to Financial Accounting Standards Board (FASB), Takeko Horiuchi
Pebbled Skin, Emma C. Lane
Bright Half Life Assistant Director, Charles Lawver
The Effect of CEO Gender on Real Earnings Management, Candice Luciano 5520037 and Shan Wang
Authenticity and Credibility: Effects on Counter-Stereotypical Ads, Grace McManus
Platonic and Confucian Theories on Music-Parallels and Differences, Christian Moreno
Brand Loyalty to Disney Theme Parks in Mainland China, Megan E. Pepi
Grammatical Gender Acquisition in L2 Spanish, Alanna Quinn and Mónica Cabrera
Residential Housing Renewable Energy Savings Calculator, Eric J. Robinson
Role of the Left Side of the X Chromosome in Cadmium Resistance in Drosophila melanogaster, Anna Savage
To Separate or Not to Separate: A Comparative Look at Education in Northern Ireland and the Special Education System in the United States, Annie Strugatsky and Victoria Graf
NeuroTracker Cognitive Function and its Relationship to GPA in College Students, Justin Tran and Caroline Gallagher Poehls
Generacer, Allen Vartanian and B.J. Johnson
TextBooked, Jordan K. Woods
Free Views to Pay per Views, Andrew York
Submissions from 2017
GIS as a Tool for Modeling Ecological Relationships, Karina Alvarez
Practical Challenges of Differentiated, For-Profit Social Ventures, Gabriel M. Blake
Rehydration from Desiccation: Evaluating the Potential for Leaf Water Absorption in X. elegans, Mitchell Braun
Integrating Non-Euclidean Geometry into High School, John Buda
Redesigned Assistive Stander, Caitlin Dorff
Funny Head (2017), Clark K. Eglinton
Safe Place for Youth Database Web Application, Christopher Franco
Social Justice Through Storytelling: Sugar Land, Alexa Garster
The transcription factors Hap4 and Swi4 contribute to the regulation of the transcriptional response to cold shock in Saccharomyces cerevisiae, Monica V. Hong
Women, Politics, and Humor on Stage: Directing "The Taming", Kayla Minton Kaufman
Dancing at My Desk: Examining the Foundations of a Nonprofit Dance Education Organization, Caeli Koizumi
Effects of Heavy Episodic Drinking on Muscle Quality in College Students, Allison G. Leggett
New Year, New Economy: The 2001 Economic Report of the President, Caspian R. Lewke
California Horn Snail exhibit a bimodal size distribution and size-associated dispersal patterns, Isai L. Lopez
Creating a Better Digital Logic Simulation for Teachers and Students, Flanders Lorton
Exploring the Meaning of Luxury to Gen Z, Lauren Mabuni
Nutrition in Alcohol Use Disorder Recovery: Considerations for Improving Outcomes, Sydnie Maltz
Build a Miracle: Building Homes and Building Relationships – A Community Perspective, Mary K. North
Misregulation of stress granules by tRNA synthetases as a potential pathogenic mechanism in Charcot-Marie-Tooth neuropathy, Casey R. Sederman
The Sound of Existence, Klaus Shipman
Analyzing the Impact of Demographics on Resident Use and Understanding of Urban Green Spaces, Emily R. Simso
The Storyteller, Tristan Speed
Lights, Camera, Recognition: An Analysis of Recognition and Disclosure of Commitments for Film and Television Programming, Jeffrey S. Walker
The Diffie-Hellman Key Exchange for Elliptic Curves, Catherine Weiss
Attachment Style and Cultural Socialization Practices in Families with Children Adopted from China, Mackenzie A. Whitfield
Parkview Pet Hospital: Veterinary Practice Management System Development, Ian T. Wiedenman
Ecological Implications of Heavy Metals in Vertebrates and Invertebrates in Los Angeles County, California, Colin Wikholm
Comparison of the regulatory dynamics of related small gene regulatory networks that control the response to cold shock in Saccharomyces cerevisiae, Natalie Williams
Submissions from 2016
Living With Fire, Claire Andreae
"Vania, and Sonia and Masha and Spike" Technical Direction, Thomas Ash
The Chinese Film Industry: Opportunity or Threat?, Brittany Beery
De iniustitia belli: Violence Against Civilians in the Thirty Years War, Joseph Berg
Looking Glass, Cameron Billingham
At the Mountains of Madness, Daniel Birmingham and Tom Szollosi
Investigating Metal Cations as Potential Inhibitors of IAPP Aggregation: KCl, CaCl2, and CuCl2, Megan Burke
France, Indonesia, and the Limits of Economic Integration, Michael Busse and David French
High Power Rocket Design Report, Laura E. Calcara, Monica Fernandez, Chris Green, and Trent Hosokawa
Sustainability and Business Performance, Cedric L. Char
Ascanius Project: MECH 401/402 Senior Capstone Experience, Ray H. Colquhoun, Joshua Solberg, Martin Tangari, and Emanuel Di Stasio
Mathematics of the Rubik's Cube, Kara M. Dismuke
Hansel and Gretel: A feature and study on how fairy tales have changed, Nazeli Ekimyan
Senior Voice Recital, Evelyn R. Fajardo
Augmented Reality in the Classroom, Patrick JB Foster and Sean Cunniff