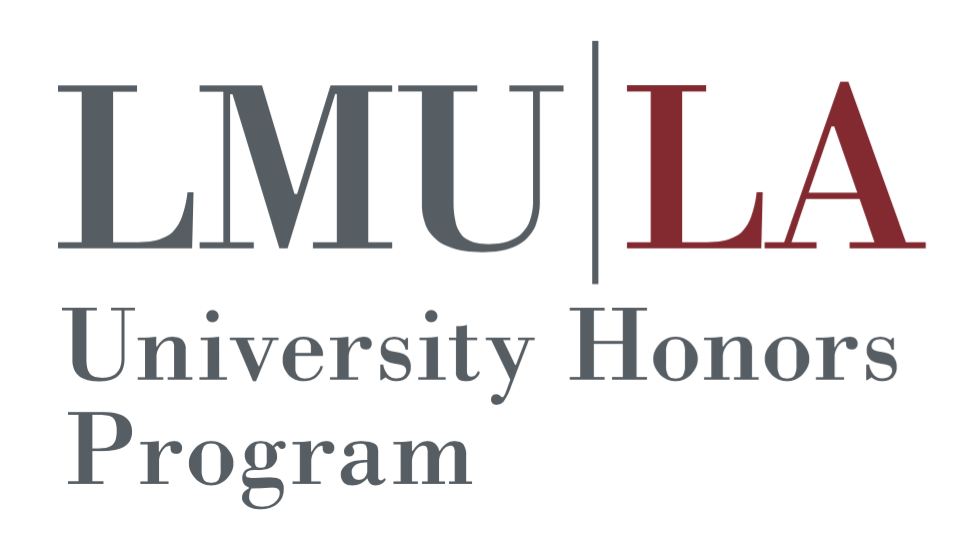 The Honors Thesis is the culmination of a University Honors Program student's time at LMU and the Honors Program. This collection gathers these works for posterity.
Guidelines for Honors Seniors
For uniformity of presentation, your thesis submission should include a thesis cover sheet. A template for this sheet is available as a public Google Doc:
Access the template with a web browser, choose File > Make a Copy… to create your own editable copy of the file, then enter the information that is specific to your thesis. Append this to your uploaded submission.
When submitting your Honors thesis information:
Submission will require that you have an LMU Digital Commons account (which is distinct from your overall LMU credentials)—you will see an option to sign up when you click on the button. Treat your profile seriously and professionally: it is your permanent presence in the LMU Digital Commons.
Include your thesis advisor as a co-author on the work. You may include additional co-authors if you have more than one mentor.
The "Date of Completion" field is, in general, the end of the semester in which you finish your work and get it graded.
The "Degree Type" field is where you can specify whether your work must be accessed from within campus. "Honors Thesis" makes your work part of the library's public collection; "Honors Thesis—Campus Access" will only allow your thesis to be downloaded from a computer within the LMU network.
When your thesis work is complete, please click on the submission button below to begin the process of adding your work to this collection. Your Honors Thesis requirement is not considered fulfilled until the final version of your thesis has been uploaded to this site.
If your final thesis work is not in a form that can be uploaded to this site, please contact Dr. John David N. Dionisio, Associate Director of the University Honors Program, to determine an alternative mechanism for accessing your work.
The information you enter can be revised after submission. Please contact Dr. Dionisio as well to request changes.
Signed Permission Letter
The only submittable item that is not electronic is a signed permission letter allowing the Hannon Library to distribute your work to the web at large, as opposed to just making it available within the campus network. This permission letter is required to be physically on-file in order to permit Internet-wide distribution.
The permission form is available as this PDF download. Download, print, fill out, and sign the form, then drop it off at the Honors office. The library needs this form in order to have the work be available on the Digital Commons platform.
Submit Your Honors Thesis Information
Honors Theses from 2017
GIS as a Tool for Modeling Ecological Relationships, Karina Alvarez
Practical Challenges of Differentiated, For-Profit Social Ventures, Gabriel M. Blake
Rehydration from Desiccation: Evaluating the Potential for Leaf Water Absorption in X. elegans, Mitchell Braun
Integrating Non-Euclidean Geometry into High School, John Buda
Redesigned Assistive Stander, Caitlin Dorff
Safe Place for Youth Database Web Application, Christopher Franco
Social Justice Through Storytelling: Sugar Land, Alexa Garster
The transcription factors Hap4 and Swi4 contribute to the regulation of the transcriptional response to cold shock in Saccharomyces cerevisiae, Monica V. Hong
Women, Politics, and Humor on Stage: Directing "The Taming", Kayla Minton Kaufman
Dancing at My Desk: Examining the Foundations of a Nonprofit Dance Education Organization, Caeli Koizumi
Effects of Heavy Episodic Drinking on Muscle Quality in College Students, Allison G. Leggett
New Year, New Economy: The 2001 Economic Report of the President, Caspian R. Lewke
California Horn Snail exhibit a bimodal size distribution and size-associated dispersal patterns, Isai L. Lopez
Creating a Better Digital Logic Simulation for Teachers and Students, Flanders Lorton
Exploring the Meaning of Luxury to Gen Z, Lauren Mabuni
Nutrition in Alcohol Use Disorder Recovery: Considerations for Improving Outcomes, Sydnie Maltz
Build a Miracle: Building Homes and Building Relationships – A Community Perspective, Mary K. North
Misregulation of stress granules by tRNA synthetases as a potential pathogenic mechanism in Charcot-Marie-Tooth neuropathy, Casey R. Sederman
The Sound of Existence, Klaus Shipman
Analyzing the Impact of Demographics on Resident Use and Understanding of Urban Green Spaces, Emily R. Simso
The Storyteller, Tristan Speed
Lights, Camera, Recognition: An Analysis of Recognition and Disclosure of Commitments for Film and Television Programming, Jeffrey S. Walker
The Diffie-Hellman Key Exchange for Elliptic Curves, Catherine Weiss
Attachment Style and Cultural Socialization Practices in Families with Children Adopted from China, Mackenzie A. Whitfield
Parkview Pet Hospital: Veterinary Practice Management System Development, Ian T. Wiedenman
Ecological Implications of Heavy Metals in Vertebrates and Invertebrates in Los Angeles County, California, Colin Wikholm 3121739
Comparison of the regulatory dynamics of related small gene regulatory networks that control the response to cold shock in Saccharomyces cerevisiae, Natalie Williams
Honors Theses from 2016
Living With Fire, Claire Andreae
"Vania, and Sonia and Masha and Spike" Technical Direction, Thomas Ash
The Chinese Film Industry: Opportunity or Threat?, Brittany Beery
De iniustitia belli: Violence Against Civilians in the Thirty Years War, Joseph Berg
Looking Glass, Cameron Billingham
At the Mountains of Madness, Daniel Birmingham and Tom Szollosi
Investigating Metal Cations as Potential Inhibitors of IAPP Aggregation: KCl, CaCl2, and CuCl2, Megan Burke
France, Indonesia, and the Limits of Economic Integration, Michael Busse and David French
High Power Rocket Design Report, Laura E. Calcara, Monica Fernandez, Chris Green, and Trent Hosokawa
Sustainability and Business Performance, Cedric L. Char
Ascanius Project: MECH 401/402 Senior Capstone Experience, Ray H. Colquhoun, Joshua Solberg, Martin Tangari, and Emanuel Di Stasio
Mathematics of the Rubik's Cube, Kara M. Dismuke
Hansel and Gretel: A feature and study on how fairy tales have changed, Nazeli Ekimyan
Senior Voice Recital, Evelyn R. Fajardo
Augmented Reality in the Classroom, Patrick JB Foster and Sean Cunniff
Communication Network Among Campus Sustainability Influencers, Alexandra C. Freling
Blogs and Feature Articles: Foster Youth in Higher Education, Superheroine Figures in Film, and More, Amanda Hayes and Jessica Langlois
Wireless Authentication of Smart Doors Using RFID, Austin A. Hentrup, Deyi Lu, and Peter R. Roldan
Zn(II), Cu(II), Sn(II), and Ni(II) and other metal cations do not prevent the aggregation of hIAPP, Charles Hoying
An Ab Initio Study of Oxygen Depletion on TiO2 Brookite Nanoparticle Surfaces and Implications for Photocatalysis and Solar Energy Conversion, Katherine G. Johnson
Visions: Chaos in Naango, Katarina J. Klask, Hunter Gibson, Taylor Roseberry, Summer Shigetani, Mattie Coccia, Alena Siu, Caitlin Mihm, Gaston Dondero, and Sophie Rudell
Star-Spangled Man with a Plan: The Narrative Evolution of Captain America, Jaime R. Maier
Dance and Well-being in Older Adult Communities: Exploring Efficacy as a Mediator, Beth M. McGowan
Silicon Beach and the LMU Apartment Rental Market, Timothy Nguyen
How Women Of Color Feminists Enabled Coalitional Members to Work Across Difference, Brooke L. O'Neal
Investigation of a Mycobacteriophage Transcription Repressor, Kathryn Orban
Marlaina Owens' Senior Recital, Marlaina A. Owens
Grandma Got Run Over by the Fashion Industry: An Analysis of the Negative Effects of Western Hegemonic Beauty Standards on Women 60+, Victoria R. Owens
Photosynthetic Characterization of Invasive Plant Diversity in Los Angeles County from 1830-2010, Lauren E. Pangburn, Erich Eberts, and Victor Carmona-Galindo
Gender Inequity Within Public Accounting, Paige Petersen
The Highway to Hell in the City of Angels: The Automobile and its Role in Influencing the Transportation Infrastructure of Post-World War II Los Angeles, William Ronald Rehbock
Instrumovement, Rachel Rivera
Senior Recital, Matilda M. Rudolph
Merck & Co., Inc. Valuation, Daniella Ryskina
The Old Sorrow, Emmett J. Schlenz
Addiction: Physiology in Performance, Opioid Pharmacology in Character Development for the Theater, Lacey M. Smith
Blue Water, Sydney Stuart
Perceptions of Appearance Toward the Self and Others, Allison Swenson
The Benefits of Global Diversification, David J. Tassone
Formation of Unimolecular G-Quadruplex Macrocycles from N9-Modified Guanine Derivatives, Lauren A. Thurlow and Jeremy E. McCallum
The Development of Notation in Mathematical Analysis, Alyssa Venezia
Keys of Ivory, Katherine S. Vermillion
Forms of Poetry: Colloquial Truth, Stephanie Williams
Honors Theses from 2015
Aggregation Characterization of Wild-Type p53 and Six Common p53 Mutants, Taylor A. Arhar
Finding Flow: Infusing Passion into Performance, Genna BloomBecker
Influence of Celebrity Scandals on Q-Scores, Mark Ciafullo
Feeding ecology of the African lion (Panthera leo) in Amboseli National Park, Kenya and comparison to other populations, Mariele A. Courtois
Care of the Whole Person: The Implications of Psychoneuroimmunology on Medical Practice, Isabella Dahlgren
Senior Capstone Project, Savin Damkar
(Eco)nomics, George Gerro
The Boys and Girls Club: Reflecting Neighborhood Inequality in Los Angeles, Nicole Giambone
Women in Advertising: Demeaning Displays? Or Aspirational Images?, Casey Kidwell
Anime: Fortress of Solitude or Kryptonite?, Oscar King IV
T.S. Eliot: A Never-Ending Exploration, Kristina Krupilnitskaya
Civilian PTSD and Its Effects on the Vietnamese Population, Lucia La
Lingua Franca, Nicholas Lepore
The Last Days of Judas Iscariot, Jessica Long
Winning Failure's Bounty: How Failure Brings Real Success, Pierce Massie
The Uncanny Valley of Virtual Reality in Marketing, Sarah J. Moore
Elderly Third Culture Kids: Transition, Transformation and Identity in a Life Abroad, Zaneta Pereira
Artist, Isidor Maxwell Pollak
Curanderismo and the Mexican Inquisition: A Needed Crime of the Time, Brian T. Reilly
Inhibiting the Aggregation of Islet Amyloid Polypeptide Using Vegetable and Tea Extracts, Alexander L. Santiago
The Holocaust in Part, an Escape Artist in Detail, and Creating Across the Gaps: Lily Renée and Comix about the Holocaust, Sarah E. Scherk
American Indian Liberation Theology and Leonard Peltier's Prison Writings: My Life is my Sun Dance, Marie B. Schuetze
Ethics of International Aid in Haiti, Amy Sims
Financial Crises and Government Regulation, Yusef Trad
Capital Punishment and Respect for Persons: Catholicism and Kantian Retributivism, Matthew Vallejo
Characters Through Time, Alyssa Venezia
Macroseepage of Methane and Light Alkanes at La Brea Tar Pits in Los Angeles, Derek T. Weber
Survey of heavy metal concentrations in insects of the Ballona Wetlands of Los Angeles, California, Katherine Wikholm
Honors Theses from 2014
Model Examining Factors Related to Physicians' Ratings of Disease Activity in Patients with Rheumatoid Arthritis, Julia R. Ayeroff
Conformal Gravity and the Alcubierre Warp Drive, Zily Burstein