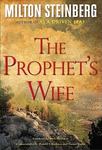 Description
Sunday, October 16, 2011 (2:00-3:30PM)
The Prophet's Wife by Milton Steinberg
Discussion led by Dr. Monica Osborne, English Dept.

The Lord said unto Hosea: Go, take unto thee a wife of harlotry and children of harlotry; for the land doth commit great harlotry, departing from the Lord.
HOSEA 1:2

From the moment young Hosea saw the maiden Gomer dancing at the Festival of Booths, he loved her. It was the most beautiful vision he had ever seen, and he would never forget it, despite the scornful laughter of his older brother Iddo, despite the lack of piety of Gomer s household, and despite her admission that she did not love him.

And so Hosea marries Gomer, in a troubled land where idol-worshiping neighbors offer up their daughters purity in the sacred groves, where arrogant high priests will stop at nothing to silence troublesome prophets, and where the blood of brothers can be the strongest bond, or the most destructive.

When Milton Steinberg died in 1950, he left one manuscript tantalizingly unfinished. Like As a Driven Leaf, it is grand in scope, while told as a compelling personal tale. Set against a backdrop of unrest in ancient Israel, The Prophet s Wife is a stirring portrait of the biblical prophet Hosea, his passionate and free-spirited wife Gomer, and a people seduced by the lures of power and idolatry to betray their faith.
Publication Date
Fall 10-16-2011
Keywords
Hosea, Gomer, faith
Disciplines
American Literature | History of Religion
Recommended Citation
Steinberg, Milton, "The Prophet's Wife" (2011). Jewish Studies Sunday Book & Discussion Group. 28.
https://digitalcommons.lmu.edu/jewishbookgroup/28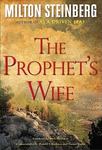 COinS