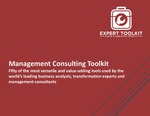 Description
The Management Consulting Toolkit contains 50 of the most useful, versatile and value-adding tools used by management consultants the world-over. The tools focus on business analysis and transformation and cover key consulting disciplines such as:1) Business performance analysis; 2) Future state design; 3) Transformation planning; 4) Transformation execution; 5) Project management; 6) Change management; 7) Team management.

These tools have all stood the test of time, and the team at Expert Toolkit believes they will continue to be relevant, powerful and value-adding in the hands of the competent practitioner. They will save you time, stress, frustration and help you make a greater impact and deliver long-lasting business value. Like everything on Expert Toolkit, these are tools and techniques used by experts and built by experts.

Here is what is included in the Management Consulting Toolkit: Accelerated SWOT Analysis Tool; Benchmarking Assessment Template; Business Diagnostic Findings Template; Business Initiative Project Charter; Capability Gap Assessment Template; Cost-Benefit Assessment Framework; Customer Experience Design Framework; Data Collection Plan Template; Failure Mode Effects Analysis Template; Five Whys Analysis; Future State Process Change Framework; Hypothesis Capture Template; Initiative Prioritization Map; Jidoka Board; Pain Point Analysis Tool; PEST Analysis Trend Matrix; Process Flow Analysis Framework; Process Issues Summary Template; Project Status Update Template; RACI Matrix Template; Root Cause Analysis; SIPOC Analysis; Solution Assessment & Prioritization; Solution Ideation & Ranking Framework; Swimlane Process Map Template; The ABCD Tool; Activity Accountability Plan Template; Business Metrics Framework; Business Stakeholder Map; Business Stakeholder Tracking Tool; Business Transformation Guiding Principles Template; Business Transformation Recommendation Template; Business Transformation Framework; Business Vision Template; Communications Plan Template; Operating Model Template; Operating Rhythm Template; Organization Impact Assessment Template; Project Evaluation Template; Project Issues Register; Project Risk Register; Project Status Report Template; Project Executive Update Template; Resource Management Plan Template; Strategy Pyramid; Team Temperature Check Tool; Transformation Conclusion Survey; Transformation Map Template; Transformation Readiness Checklist; Transformation Readiness Survey.

You get a total of 50 individual templates and tools, each with clear instructions to ensure you understand "what the tool is", "when to use the tool", "why you should use the tool" and most importantly "how to use the tool".This toolkit contains over 200 pages of material - guaranteed to lift your performance, save you time and be a reference you turn to again and again over the course of your career.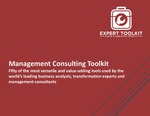 COinS