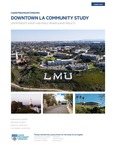 Description
About This Report
This report details the results of the 2019 intercept survey of 610 Downtown LA residents. These data are compared to results of the 2019 Los Angeles Public Opinion Survey of 2,008 Los Angeles County residents.
In early 2019, StudyLA field researchers conducted a study in Downtown LA to measure resident perception of various aspects that contribute to quality of life and outlook on the future of the region. To gather the data, trained researchers recruited individuals in Downtown LA to complete a 10 minute survey available in both English and Spanish. The questions assessed public opinion on a range of topics including the area's characteristics, services, and amenities. The study concluded in 610 completed surveys from Downtown LA residents. The margin of error is ±4% for the entire sample.
For more information about these results, please contact Brianne Gilbert, Associate Director, at brianne.gilbert@lmu.edu.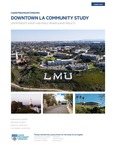 COinS