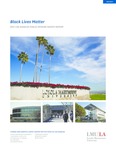 Description
MAJORITY OF L.A. COUNTY RESIDENTS AGREE WITH BLACK LIVES MATTER, LMU SURVEY FINDS
Two-thirds (67%) of Los Angeles County residents agree with the Black Lives Matter movement, according to a survey conducted by Loyola Marymount University's Thomas and Dorothy Leavey Center for the Study of Los Angeles. "In Los Angeles, even wedge issues become non-controversial," said Fernando Guerra, director and professor of political science and Chicana/o studies at LMU. "Such a high level of support for the nationally controversial issue is astounding even for liberal LA." The question was part of a public opinion poll administered by StudyLA in January and February to 2,400 Los Angeles County residents through a mixed-mode (telephone and online) method. The survey defined Black Lives Matter as a movement to bring attention to the relationship between African Americans and police departments across the country. Major findings include:
▪ Broken down by race, Blacks had the highest level of support for the movement (87% agree), followed by Latinos (71%), Asians (62%), and whites (59%).
▪ City of Los Angeles residents were more likely to agree with the movement (73% agree) as compared to Los Angeles County residents (64%).
▪ Liberals were very likely to agree with the movement (83%), while moderates had slightly lower levels of support (64%), and conservatives had the lowest levels of support (50%).
▪ Students (82% agree) and young Angelenos, ages 18-29 (76%) were supportive of the movement.
Although Angelenos agreed with the movement at varying levels, demographics expected to oppose the movement came out with substantial levels of support. "Sure, Blacks, liberals, students, and millennials strongly support the movement just as expected," said Brianne Gilbert, associate director of StudyLA. "But the fact that 50% of conservatives and 59% of whites agree with Black Lives Matter clearly shows that the majority of Angelenos stand with this movement." The Thomas and Dorothy Leavey Center for the Study of Los Angeles at Loyola Marymount University is one of the leading undergraduate research centers in the nation. The results of this report are part of the Los Angeles Public Opinion Survey, an annual outlook survey looking at quality-of-life perceptions, personal economic wellbeing, economic concerns, overall life satisfaction, and various civic issues. For more information, please visit: lmu.edu/studyla. The margin of error is +/-3.0 percent.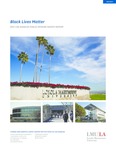 COinS