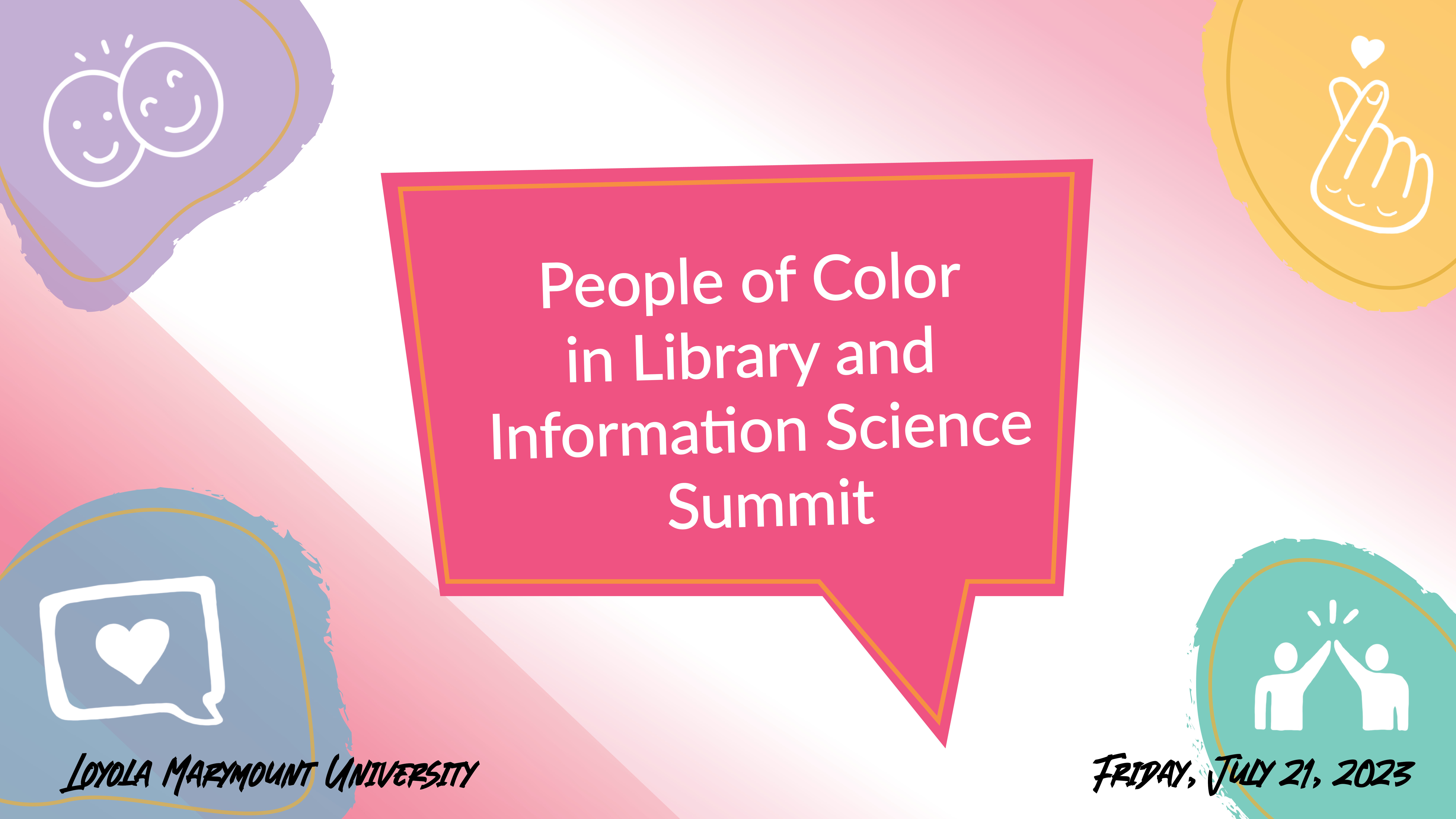 The People of Color in Library & Information Science (POC in LIS) Summit took place on Friday, July 23rd, 2021 virtually via Zoom from 9:00 am - 3:15 pm PST.
The mission of POCinLIS Summit is to create a productive and brave space for people of color, especially women and marginalized identities, working in the information sector. Information workers will have the opportunity to explore their work in LIS as POC and their intersecting identities as POC+ and information workers. This summit invites participants to challenge and interrogate their roles and actions as information workers. This summit aims to collectively establish rules of engagement and discourse, acknowledging that dominant narratives may be disrupted. This space is created to support the research of POC librarians and create a network of POC information workers for future collaboration and self-care.
Thriving Together: Strengthening Our Identities through Community The theme Thriving Together centers on uplifting each other through community. As POC, our identities intersect in our work as we engage with systems of oppression within and outside of institutions. How can POC in LIS join together to create strong, diverse, and beautiful communities, online and in person?
This conference is funded by the William H. Hannon Library at Loyola Marymount University and Statewide California Electronic Library Consortium (SCELC) SPIF Grant.
2021 Schedule & Presentations
2021
Friday, July 23rd
9:00 AM

9:00 AM - 9:30 AM

9:30 AM

Imagining Trauma-Informed Care in Libraries (2 Hour Workshop)

Nisha Mody


9:30 AM - 11:30 AM

9:30 AM

Parenting in a Pandemic: Surviving the Perfect Storm of Social Injustice, Parenting, and a Pandemic in Librarianship

Alanna Aiko Moore
Michelle McKinney
Charlotte Roh


9:30 AM - 11:00 AM

9:30 AM

The Lived Experiences of (BI)POC Women Academic Library Deans/Administrators

Valeria Molteni
Eileen K. Bosch
Lori Harris
Pearl Ly


9:30 AM - 11:00 AM

11:30 AM

11:30 AM - 12:00 PM

12:00 PM

Creating POC-Spaces in Community Archives and Public Programming

Jo-Ann Wong
Obden Mondésir


12:00 PM - 1:00 PM

12:00 PM

Designing Better Mentoring Experiences for BIPOC Librarians: Creating a "Constellation" of Mentors Through Self-Advocacy

Michele Santamaría
Calida Barboza


12:00 PM - 1:00 PM

12:00 PM

Diversity at Scale: The Necessity of Integrating Social Justice into Technical Development

Jackson Huang


12:00 PM - 1:00 PM

1:00 PM

1:00 PM - 1:05 PM

1:05 PM

Good Gossip: Spreading the Word to Protect Each Other

Nimisha Bhat


1:05 PM - 2:05 PM

1:05 PM

Aidy Weeks
Ruby Nugent
Melanie Dixson
Niki Kirkpatrick
Mayra Corn


1:05 PM - 2:05 PM

1:05 PM

Sharing Expertise, Stories: Library and Information Science (LIS) Intersections in a Summer Science Internship Program

Rebecca Orozco
L. Marie Avila
Carrie Cornelius
Doris Watts


1:05 PM - 2:05 PM

2:05 PM

2:05 PM - 2:15 PM

2:15 PM

Community-Driven Archives: BIPOC & LGBTQ Solidarity & Power

Jessica Salow
Nancy Godoy
Alexander Soto


2:15 PM - 3:00 PM

2:15 PM

Connecting Academic and Public Libraries for Future POC in LIS: Discussion of a Partnership Between the Los Angeles Public Library and Loyola Marymount University's William H. Hannon Library

Ray Andrade
Jené Brown


2:15 PM - 3:00 PM

2:15 PM

Espacios de Confianza: Disrupting Power Imbalances within the Residency Experience

Jessica Dai
Sheila Garcia Mazari
Kenya Flash
Twanna Hodge


2:15 PM - 12:00 AM

2:15 PM

Menstrual Equity for $22 a month: How one health sciences library brought free menstrual products to an entire university

Donna Baluchi


2:15 PM - 3:00 PM

2:15 PM

Publish, Reclaim, Disrupt: up//root & WOC+Lib talk knowledge-making in LIS

Joyce Gabiola
Megdi Abebe
Sofia Leung
Jorge López-McKnight
Kristina Santiago
Jaena Rae Cabrera
Juanita Thacker
LaQuanda Onyemeh


2:15 PM - 3:00 PM

2:15 PM

The Ambivalence of Librarianship, the Pipeline, and Pathways for BIPOC

Tarida Anantachai
Camille Chesley
Kenya Flash
Jamia Williams


2:15 PM - 3:00 PM

2:15 PM

Thriving with Peer-to-Peer (P2P) Mentoring: Strengthening Leadership, Promoting Advancement, and Uplifting POC in LIS

L. Marie Avila
Letha E. Johnson


2:15 PM - 12:00 AM

3:00 PM

3:00 PM - 3:15 PM