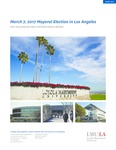 Description
GARCETTI EXPECTED TO WIN MARCH 7 ELECTION
According to Angelenos surveyed this month by Loyola Marymount University's Thomas and Dorothy Leavey Center for the Study of Los Angeles, Eric Garcetti will win next week's election for Mayor. The overwhelming support for Garcetti coupled with the expected low voter turnout and the incumbency advantage virtually guarantees a majority win, eliminating the need for a runoff election in May. "Historically, voter turnout for off-year local elections has been extremely low," said Fernando Guerra, director and professor of political science and Chicana/o studies at LMU. "This means that votes from those who do show up will have even more of an individual impact than those in higher turnout elections."
The opinion poll was administered by StudyLA in January and February to 2,400 Los Angeles County residents through a mixed-mode (telephone and online) survey. Those who self-identified as registered voters living in the City of Los Angeles (n=950) were asked, "If the Municipal Election was today, for whom would you vote for mayor?" The major findings include:
▪▪ Just over half of self-identified registered voters reported they would vote for Eric Garcetti.
▪▪ Almost 40% of self-identified voters reported that they did not know for whom they would vote.
▪▪ Of those respondents who selected a candidate, Garcetti's support increased to 81%.
"Although we recognize the likely low voter turnout in this election, these results show Garcetti's considerable influence and reputation in LA, and indicate that he is in a strong position to win the upcoming election," said Brianne Gilbert, associate director at StudyLA. The Thomas and Dorothy Leavey Center for the Study of Los Angeles at Loyola Marymount University is one of the leading undergraduate research centers in the nation. The results of this report are part of the Los Angeles Public Opinion Survey, an annual outlook survey looking at quality-of-life perceptions, personal economic wellbeing, economic concerns, overall life satisfaction, and various civic issues. The full report will be released at the annual Forecast LA conference on April 19. For more information, please visit: lmu.edu/studyla.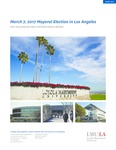 COinS