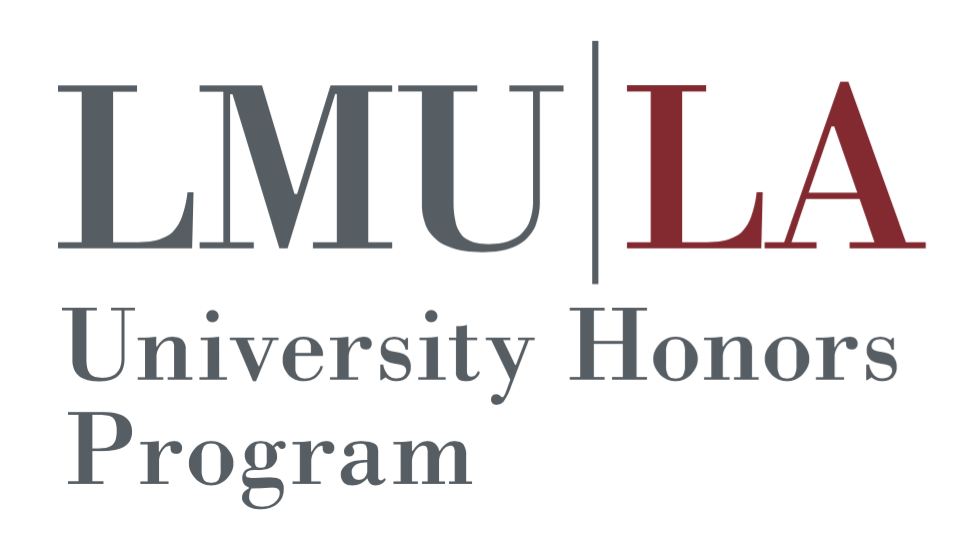 The Honors Thesis is the culmination of a University Honors Program student's time at LMU and the Honors Program. This collection gathers these works for posterity.
Guidelines for Honors Seniors
For uniformity of presentation, your thesis submission should include a thesis cover sheet. A template for this sheet is available as a public Google Doc:
Access the template with a web browser, choose File > Make a Copy… to create your own editable copy of the file, then enter the information that is specific to your thesis. Append this to your uploaded submission.
When submitting your Honors thesis information:
Submission will require that you have an LMU Digital Commons account (which is distinct from your overall LMU credentials)—you will see an option to sign up when you click on the button. Treat your profile seriously and professionally: it is your permanent presence in the LMU Digital Commons.
Include your thesis advisor as a co-author on the work. You may include additional co-authors if you have more than one mentor.
The "Date of Completion" field is, in general, the end of the semester in which you finish your work and get it graded.
The "Degree Type" field is where you can specify whether your work must be accessed from within campus. "Honors Thesis" makes your work part of the library's public collection; "Honors Thesis—Campus Access" will only allow your thesis to be downloaded from a computer within the LMU network.
When your thesis work is complete, please click on the submission button below to begin the process of adding your work to this collection. Your Honors Thesis requirement is not considered fulfilled until the final version of your thesis has been uploaded to this site.
If your final thesis work is not in a form that can be uploaded to this site, please contact Dr. John David N. Dionisio, Associate Director of the University Honors Program, to determine an alternative mechanism for accessing your work.
The information you enter can be revised after submission. Please contact Dr. Dionisio as well to request changes.
Signed Permission Letter
The signed permission letter allows the Hannon Library to distribute your work to the web at large, as opposed to just making it available within the campus network. This permission letter is specifies the level of sharing that you permit, ranging from Internet-wide distribution to archival only (i.e., no distribution).
The permission letter is available as this Adobe Sign PDF. Fill out and sign the form, and it will then go to your thesis advisor. After your advisor fills out their portion, a link to the final version will be emailed to you. Please upload that final version to your HNRS 4000 Brightspace page.
Submit Your Honors Thesis Information
Submissions from 2021
Using Bacterial and Fungal Inoculation Strategies to aid in the Wetland Restoration of Native Plants in Southern California, Amy Alverson and Karina K. Johnston
Water Supply Dam and Pipeline, Morgan Anderson, Nimai Alicer, and Carlos Yvellez
Black Lives Matter. The NBA Strike and Its Effect, Chiara Armstrong and Julian Saint Clair
A Two-Year Longitudinal Study of Bone Mineral Density in Collegiate Distance Runners, Olivia E. Brimacomb, William P. McCormack, and Hawley C. Almstedt
Riddle Passageways, Jessie Brown
Self Hood and Self Realization in Contemporary Korean Dramas, Kevin Chang and Yanjie Wang
Does Public Health Policy Matter?: Explaining Variation in COVID-19 Outcomes Across the 50 States, Charlotte Cheng and Richard L. Fox
A New Perspective on School Security: Metal Detectors as Disciplinary Tools and the Product of Anti-Democratic Decision-Making Processes, Siobhan Collins and Andrew Dilts
Investigating the Effects of Urban Coyotes on Free-Range Cats in Culver City, California Using Occupancy Analyses of Camera Trap Data, Rebecca Davenport, Melinda Weaver, and Dr. E. Strauss
The potential influence of abiotic conditions on mussel species abundance in San Francisco Bay, Alexandra G. Farrell and M. Christina Vasquez Dr.
Markov Model Composition of Balinese Reyong Norot Improvisations, Taylor Flanagan and Robert Rovetti
Exploring the Dynamics of Biological Macromolecules at Angstrom Scale, Calvin Foss
Exploring Universities' Policies to COVID-19 - Student Perceptions & Student Mental Health, Ivonne Franco
Pandemic Privilege: Business Policies and Labor Value During COVID-19, Kyle Friedler
Giving in Dictator Games: Factors of Generosity, Margaret Gallagher and Prachi Jain
Die Neue Propaganda, Kai Henthorn-Iwane
Religious Beliefs as They Relate to Beliefs about Free Will, Including Determinism, Libertarianism, and Compatibilism, Leigh Lewis
Transforming the Chinese Pole Circus Apparatus into an Interactive Musical Instrument, Fosse Lin-Bianco, Hossein Asghari, and Evan Mitchell
Settlers of K'tah, Madelyn Louis, Li Ying Tan, Haley Mech, and Kaitlyn Behrens
Sampling Compactness Scores to Detect Gerrymandering in Squaretopia, Joshua Mariz
Collapsible Prosthetic Shower Leg, Amanuel Matias and Mahsa Ebrahim
History in Crisis: Museum Programming during the COVID-19 Outbreak, Lindsay McConnell
Settlers of K'tah, Haley Mech, Li Ying Tan, Madelyn Louis, Owen Mech, and Ashley Brooks
International Opportunities and Innovation between Australia and the United States in a Post Pandemic Economy, Amanda Meegan and Scott Delanty
Transforming the Chinese Pole Circus Apparatus into an Interactive Musical Instrument, Evan Mitchell and Fosse Lin-Bianco
The Impact of Culture on Member State Migration Policy in the European Union, Sophia Notter and Jennifer Ramos
The Wolves Performance, Madeleine Quinn and Diane Benedict
Review: The Bidirectional Relationship Between Mitochondrial Respiratory Chain Inhibition and Import Machinery Malfunction in Parkinson's Disease, Grace Riggs and Deepa Dabir
The Specifics of Editing Comedy, Genevieve Roeder-Hensley and Luis Proenca
Laplace's Equation in Fractional-Dimension Spaces, Kyle Schoener and Gabriele Varieschi
Settlers of K'tah, Li Ying Tan, Madelyn Louis, Kaitlyn Behrens, and Haley Mech
Human Powered Vehicle Capstone, Maya L. Washington, Ryan Apolonio, Marc Sunga, John Rettenmier, and Dr. Allen Wilson
Smart E-Bike Conversion Kit and Helmet, Megan West, Marena Trujillo, and Hossein Asghari
Performing Lysistrata Over Zoom, Charles Workmaster and Diane Benedict
Submissions from 2020
ADAPTIVE UTILITY: OBSERVING THE RATE OF ADAPTATION IN HAPPINESS AS SHORT RUN SHIFTS REVERT TO LONG RUN AVERAGES, Cameron Bellamoroso
Biomechanical Comparison of the Validity of Two Configurations of Simulators for Body-Powered Hand Prostheses, Camille Bennett, Amanuel Matias, Brendan Smith, Jenevieve Roper, and Stephen Estelle
Charles Berg Senior Piano Recital, Charles Berg and Wojciech Kocyan Dr.
The Television Showrunner: A Case Study Analysis of Insecure and Fleabag, Haley Bulen and Charles Howard
Designing Theatre Lighting for New Works Festival 2020, Bridger P. Caicedo
White Environmentalism, Neoliberalism, and Mainstream Fossil Fuel Divestment: Critical Reflections for Campus-Based Divestment and Reinvestment Campaigns, Kenneth J. Cavanaugh and Sina Kramer
Representing Misrepresentation: Harm, Offense, and Diversity in Fiction, Richard C. Cavanaugh and Sina Kramer
Climate Migration: Evaluating the Conditions that Breed Conflict, Avery Dillon
Hollie and the Love Heist, Mackenzie Drewe and Vanessa Newell
En Croix: A Choreographic Study of Translation, Gillian T. Ebersole and Kristin Smiarowski
An Expression Database for Node Coloring on GRNsight: a web application for visualizing models of gene regulatory networks, Alexia Filler, John David N. Dionisio, and Kam D. Dahlquist
Linguistic Self-Esteem in Bilingual Adults, Eunice Gonzalez and Dr. Nora Murphy
Effect of Hyposaline Stress on Metabolic Rate of the Invasive Mussel Mytilus galloprovincialis, Hayley C. Hart
Antiquity after Repatriation: New Perspectives on the Debate over Cultural Property, Erin Hood
Investigating Language Variation and Change in Appalachian Dialects: The Case of the Perfective Done, Julia Horton and Anna Muraco
Explorations of Liminality and Intersectionality in Tabletop Games, Alyna Kim
Finn and Beau: A CG Exploration of Animal Physiology, Aison King
Mechanistic Study of DBU-Catalyzed Esterifications of Acyl Imidazoles, Abby Medlin and Stephen T. Heller
Geotechincal Report: Mill Creek Water Supply Dam and Pipeline, Leonora Meroth, Emma McClellan, and John Covarrubias
Biofilm Formation and Plant Growth Promotion in Bacillus simplex 237 Are Induced by Nutrient-Deficiency, Yeabsira Mesfin and Nancy Aya Fujishige Dr.
The Impact of PCAOB Inspections on Auditor Behaviors—Reshaping the Definition of Audit Quality at the Cost of the Profession, Kaelyn Novak
Beyond a Tube of Red Lipstick: An Economic Valuation of Estee Lauder and the Beauty Industry, Aisea Odencrantz and David Offenberg
Putting Back on the Tiara: A Creative Exercise, Christine Petersen and Theresia de Vroom
The Bioethical Implications of Genetic Screening Programs for Rare Diseases, Ellie Pitcher and Jeremy McCallum
The Evolution of the Auditor and Auditing Profession: The Impact of the Sarbanes-Oxley Act of 2002, Kylie Pollack and Scott Delanty
Looking for Lotte, Emily Rawson
The Impact of Concealed Carry Weapon Laws on Homicide Rates in the United States, Hayden Regalado, Dorothea K. Herreiner, and Michelle Miller
Visceral, Miranda L. Robinson and Rachel Kopito
Love in A Bleak Climate: A Tale of Desolation in the Deserts of New Mexico, Remy Rogers and Han Dai-Yu
Investigating the Link between mRNA Binding to Hts1/Tys1 tRNA Synthetases and Charcot Marie Tooth Neuropathy, Hallie G. Ryan and Sarah Mitchell
Exploring the Romantic Comedy: From the 90s to Today, Abigail Sherlock
The Influence of Anti-Inflammatory Diets on the Reduction of Symptoms of Inflammatory Bowel Disease, Kelly Stanton
Saint Sebastian at the Bacchanalia: Two Figurations of Homoerotic Desire in the Gay and Bisexual Men's Literary Tradition, Matthew Williams and Alexandra Neel
Race, Income, or School Quality? Determining the Most Influential Factor in High School Graduation Rates in Times of Economic Hardship, Elsa Wilson
Gentrification and Local Restaurants: Chinatown District of Los Angeles In A Digital Age, Sky Xavier and Christopher J. finlay
Submissions from 2019
SHIFT Dance Intensive: Developing Dance, Arts and Culture in Hong Kong, Kelsey Marie Ang
Evaluating Morningstar Wide Moat Stocks through the Business Cycle, Zachary Bishkin
Orpheus and Women on 5th Century BCE Vases, Samantha Burton
Analyzing Chaotic Motion in a Computational Double Pendulum, Mia R. Calhoun Mummert
face me., Audrey M. Colanero
Brand Expansion vs. Strong Consumer Relationships, Julia da Motta and Mitchell Hamilton
Repurposing Plastic Waste in El Cercado, Joseph Dooling, Kirby Townsend, and Brendan Smith
Hatch-A-Match, Haley L. Fletcher
Shaming Citizens: An Ethical Framework for Correcting Citizen Vices, Alfredo Y. Hernandez
Slotus, Alison F. Huntley and Michael F.X. Daley
Evolution of the Movie Trailer: A Producer's Guide, Nolan Jacobs Walker and Charles Howard
Every Data Point Counts: Political Elections in the Age of Digital Analytics, Julian Kehle and Samir Naimi
Subscale Mars Colonization Mission, Cameron J. LaMack, James Lumsden, Sean Nevin, Donner Schoeffler, Riley Evers, Alexandra Poulakos, Skyler Tan, Anthony Keba, Siraj Zaman, Ali AlTamimi, and anthony Modica
Neural Machine Translation, Quinn M. Lanners and Thomas Laurent
The Internal and External Factors Contributing to the Underrepresentation of Women and Ethnic Minorities in the Workplace: Intersections, Interventions, and Implications, Dylan Loo and Angélica Gutiérrez
Une Promenade Pluvieuse à Paris, Patricia R. Lynch, Sarah Maclay, and Juan Mah y Busch
Gender Norms and Underground Hip Hop: Female Artists and How They Challenge the Industry, Alexandra S. Meek
Symbiosis between Chamaecrista fasciculata and nitrogen-fixing bacteria: a review, Victoria Q. Nguyen
A Comparison of Quadriceps -to-Hamstrings Ratios During Isokinetic Testing, Cutting, and Drop Landings in Male Soccer Players, Shane R. O'Donnell and Jenevieve L. Roper
Are we there yet? Racial Diversity in Digital Retail Advertising, Riley O'Keefe and Julian Saint Clair
Daniel Ostrander in a Senior Recital, Daniel A. Ostrander and Dr. Barbara Dyer
An Investigation of Personal Financial Literacy Education, James R. Penner and Joshua D. Spizman
Ensuring Indigenous Rights: New Zealand and UNDRIP, Olivia Round and Jodi Finkel
Production Design in the Film and Television Space: An Analysis, Kaitlyn N. Ryan and Charles Howard
Finding the Optimal Degree of Leverage in Real Estate Investment Trusts (REITs), Alex Stamas and Trevor Zink Ph.D.
Anna Thompson in a Senior Piano Recital, Anna Thompson and Wojciech Kocyam
A Geographical Analysis of Gentrification and the Changing Foodscape in Seattle 2010-2017, Alice Tiffany and Michele Romolini
Submissions from 2018
Extending the Visualization Capabilities of GRNsight: a web application for visualizing models of gene regulatory networks, Eileen Choe
Heartwired, Alexandra K. Dmitrieva, Gregory Richardson, Fiona Ho, Ethan Arns, Maria Li, Ryan Taus, Kevin Metelus, Zachary Fitzpatrick, and Amanda Niles
Strangers, Alexander Dulak
Genetic Variation and Biogeography of the Silver Garden Spider Argiope argentata (Araneae: Araneidae), Caroline E. Fukawa